Meet our staff: Chan Rukha Var
"God knows me clearly, than I know myself."

Chan Rukha Var is a current HR and Administrative officer of Voice of Love Cambodia.
Already been with VOLCambodia for 18 years, Rukha remembers how God has lifted up his life from Khmer Rouge to till now.
He says, "I was 8 years old, when the Khmer Rouge started. I can never forget how difficult my childhood was, no food to eat, no clothes to wear, war and violence were the only things that had surrounded me.
I was taught to useGun) and be against my parents, but God knew me and gave me wisdom to wrap myself in a carpet to hide from Pol Pot officers. I lived like that for 1 month. After 4 years, though the Pol Pot regime had ended, but hunger, thirst and the pain of losing family members were still bounded in our lives. We were 10 in my family, but my father and a sister died in the war. Rest of my siblings were scattered, and we didn't know where they were.
I believed Jesus Christ from my brother, who had escaped to United States in the rouge. Thus, I became the first believer of my family living in Cambodia.
At First, I started my journey with VOLCambodia as a driver. After a year, I was promoted to be an admin assistant. Later, in 2004, I became Administrative officer and now I am serving as a HR and admin officer.
Although, I don't have university degrees, but the greatest of all that I have, is the wisdom that comes from Lord. Almighty."
"If the story of my life is made a movie, then it will be super hit." chuckles Rukha, who is also a Pastor of Baptist TuolKork Church.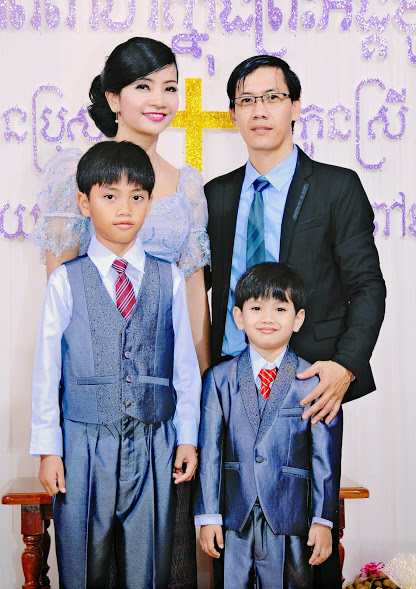 Rukha with his wife and two sons