Listeners Mourn Death of Family FM Presenter
Family FM listeners were among the mourners at a series of church services held following the death of presenter Phearun Hem in a traffic accident on 5 March.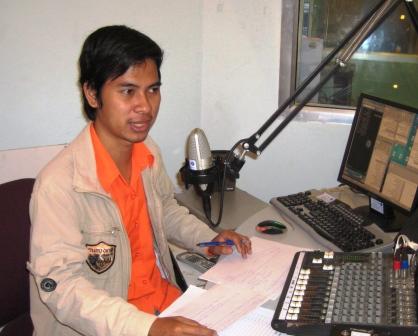 Hundreds of people, including Family FM listeners from Phnom Penh and the provinces, attended the three church services held on 6th and 7th March in honour of Family FM presenter Sophearun ("Phearun") Hem. Phearun, 27, died on Saturday evening, March 5 , when his motorbike was hit by a car in Phnom Penh's Russian Boulevard.
Among other programmes, Phearun hosted the Family FM morning magazine show Sunrise. With his warm and engaging personality, and the friendliness with which he conversed with listeners who phoned into the programme, he was among Family FM's most popular presenters.
Phearun, who held a university degree in management, previously worked for the Evangelical Fellowship of Cambodia's (EFC's) Youth Commission and a Korean children's ministry. He was a group leader at EFC youth camps. In his church he led worship – he was a gifted singer – and worked with the young people. He joined the staff of Family FM in December 2008. He explained that he had been drawn to the radio ministry because he loved to communicate, and especially to tell people about Jesus.
Samoeun Intal, Director of FEBCambodia, says: "In this nation that is in the process of rebuilding, Phearun brought hope into society. He was a special person with a special gift for communicating on air. He loved to make friends. His liveliness and joy touched all those who knew him, and our listeners felt it too. As we remember Phearun in our programmes in the days to come, we trust that God will use his testimony to touch many lives."
A large convoy of friends, colleagues, pastors of several churches, and listeners escorted Phearun's body to the family province of Kampong Thom on 8 March, where they joined his family and local villagers as he was laid to rest.