Hundreds Flock to Easter Celebration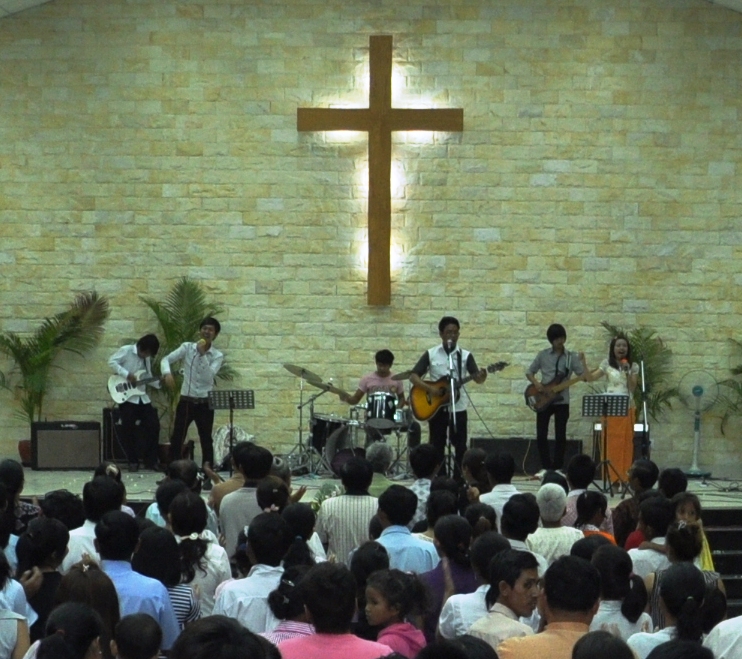 Up to 800 people attended a three-hour Easter celebration in Phnom Penh on Sunday 24 April. The event was organized jointly by FEBCambodia and the Evangelical Fellowship of Cambodia (EFC), and broadcast live on Family FM.

The Cambodian church is still young, and while it enjoys celebrating Christmas, there has so far been little recognition of Easter. This year FEBC, in partnership with the Evangelical Fellowship of Cambodia, decided to 'model' an Easter Service, which was broadcast live on Family FM 99.5.
The three-hour celebration was held at the Assemblies of God Cambodia Bible Institute Sanctuary in Phnom Penh Thmey - also the meeting place of Phnom Penh's International Christian Assembly.. The program featured music, drama and dance, worship and preaching. Speakers were Rev Heng Cheng, General Secretary of the EFC, and Ken Huff, Country Moderator of Assemblies of God World Missions in Cambodia and a member of FEBCambodia's Board of Trustees.
Announcements of the event were made via Family FM two weeks in advance. FEBCambodia's Director Samoeun Intal, one of the hosts of the event, says: "Because of the announcements, some churches who had never celebrated Easter did so for the first time," she says.
Between 750 and 800 people attended the event, a number of them sitting outside the doors as there was no room inside. "People I spoke to afterwards were very enthusiastic," says Samoeun Intal. "I think it was a great encouragement to the Church."